BC Contract AREAS
AREAS & CONTRACTS IN BRITISH COLUMBIA


Victoria – Southern Vancouver Island Divsion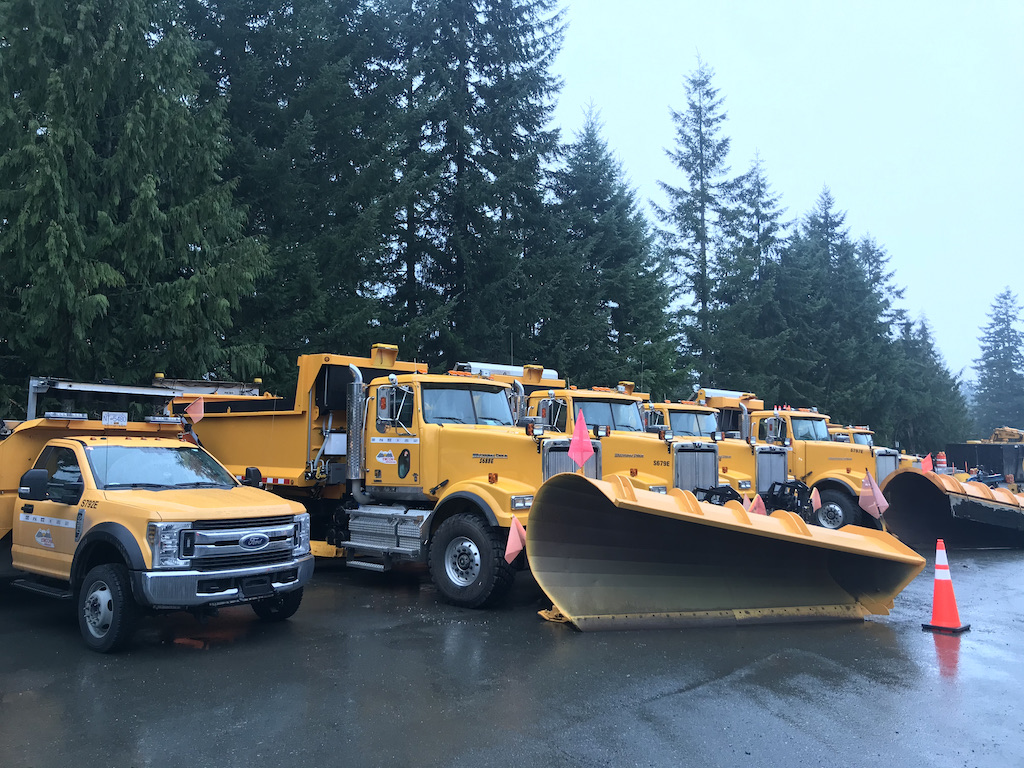 Malahat Yard
686 Ark Road
Malahat BC
V0R 2L0
778-698-3582 main
Office hours Mon – Fri 7:30am – 4:00pm
24/7 Road reporting line 1-866-353-3136
For email questions
(this will only be monitored during working hours)
bca1admin1@emconservices.ca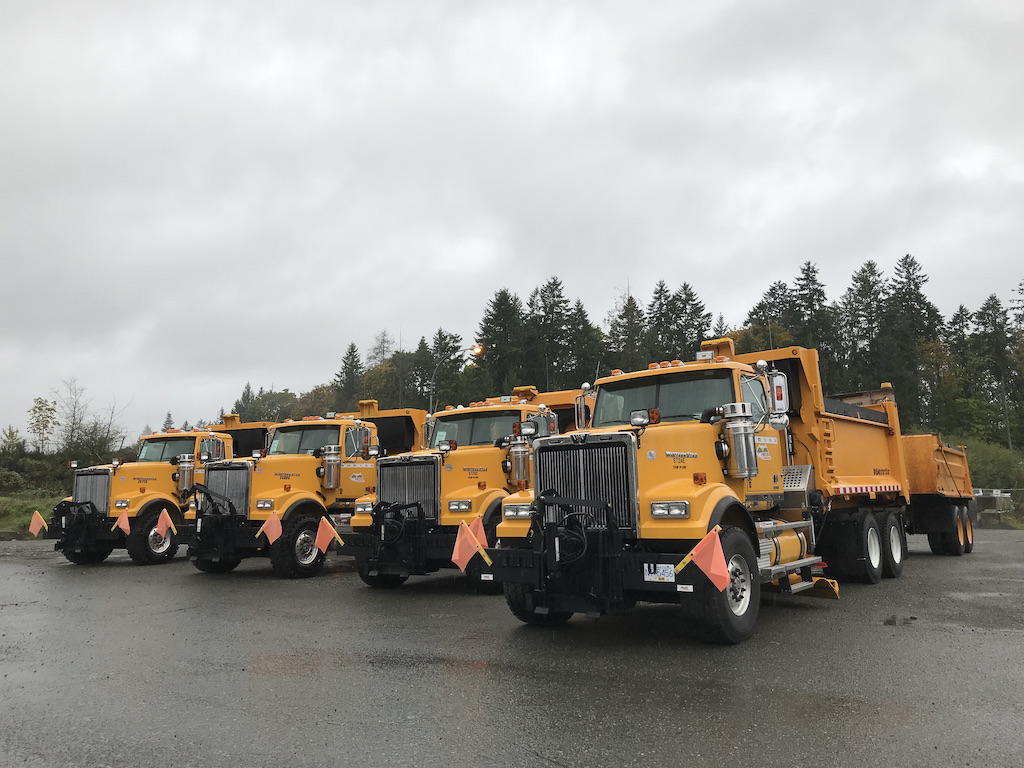 Duncan Yard
3876 Finwood Place
Duncan BC
V9L 6K4
778-698-3582 main
Office hours Mon – Fri 7:30am – 4:00pm
24/7 Road reporting line 1-866-353-3136
For email questions
(this will only be monitored during working hours)
bca1admin1@emconservices.ca
Emcon Services Inc. has been servicing the Southern Vancouver Island since October 1, 2019 and is responsible for the maintenance of British Columbia's provincial highways and roads in Area 1 from Chemainus in the North end to Victoria including roads to Port Renfrew, Lake Cowichan, Sooke and all roads on the six Southern Gulf Islands.
The headquarters and primary works yard for Emcon Services Inc. is located in Malahat (Ark Road) with supporting works yards in North Duncan, Sooke, Bamberton, and the Gulf Islands of Galiano, Mayne, Pender, Salt Spring, Thetis, and Saturna.
The South Vancouver Island Service Area: 3,380 lane kilometres including 220 structures (including bridges, tunnels, pedestrian overhead structures, major sign structures), 14,000 culverts), 9 service yards, 1 salt depot and at last count, approximately 22,158 signs. While this region generally enjoys a more moderate coastal climate, it is susceptible to seasonal wind, rain and snow storms. One important and challenging area in particular is the Malahat section of Highway #1 just north of Victoria – the main link for Island traffic north and south with significant elevation change. With utilization of the Malahat Weather Station near the summit, Emcon can access real time data from the site to forecast weather and road conditions and to prepare equipment and crews in advance of road conditions that can change rapidly.
Selkirk division
Revelstoke – GOLDEN B.C.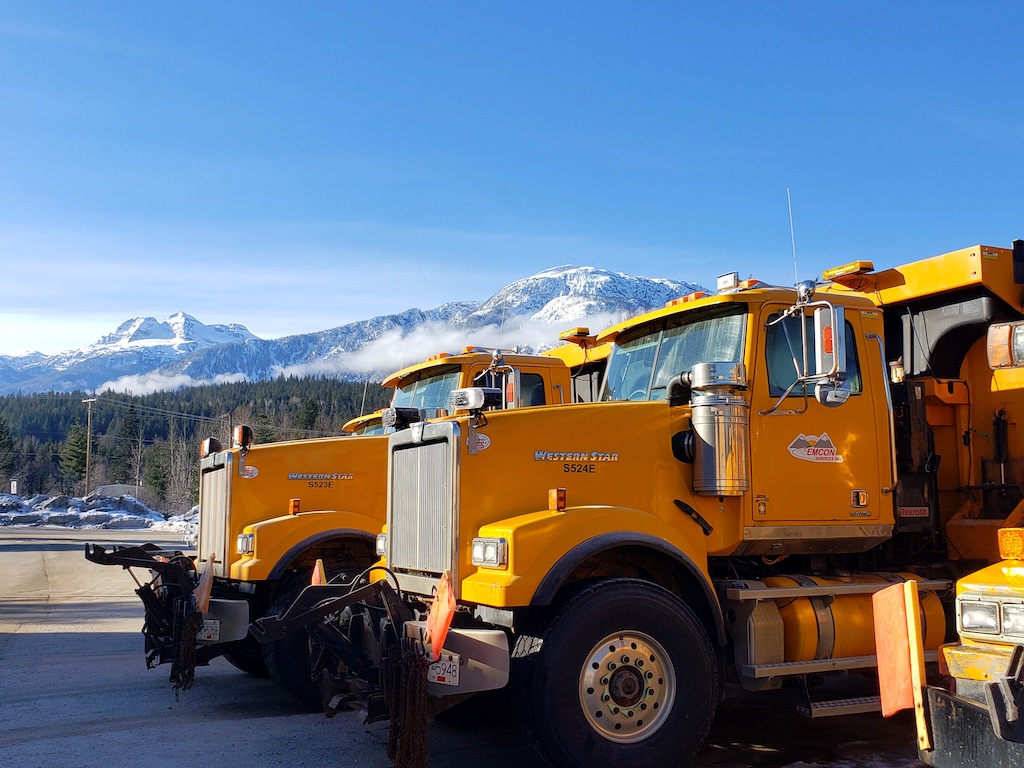 Revelstoke YARD
723 Hwy 23 South
Revelstoke, BC
V0E 2S0
250-837-3136 main ext 500
250-387-6225 fax
Office hours Mon – Fri 7:30am – 4:00pm
24/7 Road reporting line 1-866-353-3136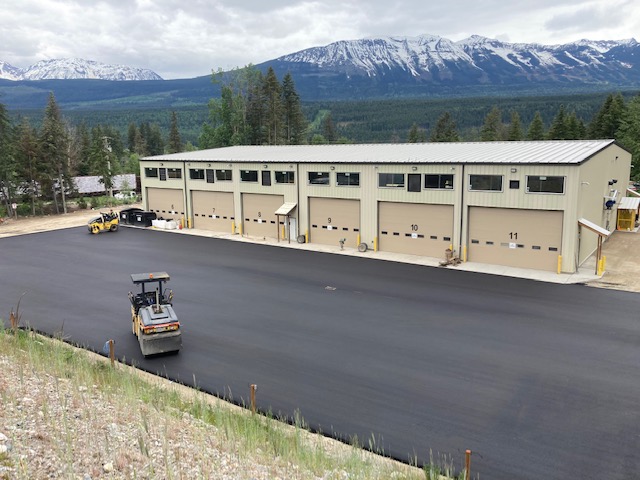 GOLDEN YARD
1220 Station Ave.
Golden, BC
V0A 1H0
250-344-5009

main
250-344-5009 fax
Office hours Mon – Fri 7:30am – 4:00pm
24/7 Road reporting line 1-866-353-3136
Area 12 covers some of the most challenging roads to maintain, this includes the Trans-Canada highway that is maintained from Perry river to the Yoho National Park boundary east of Golden.  The area also consists of Highway 23 , North and South, as well as Hwy 95 South towards Radium and the side roads in the area that extend up to the Kicking Horse Resort and West and South of the City.  With heavy snowfall and traffic volumes on the Trans-Canada highway keeping the roads safe for workers and the traveling public presents many challenges.
North Cariboo Division
Quesnel, B.C.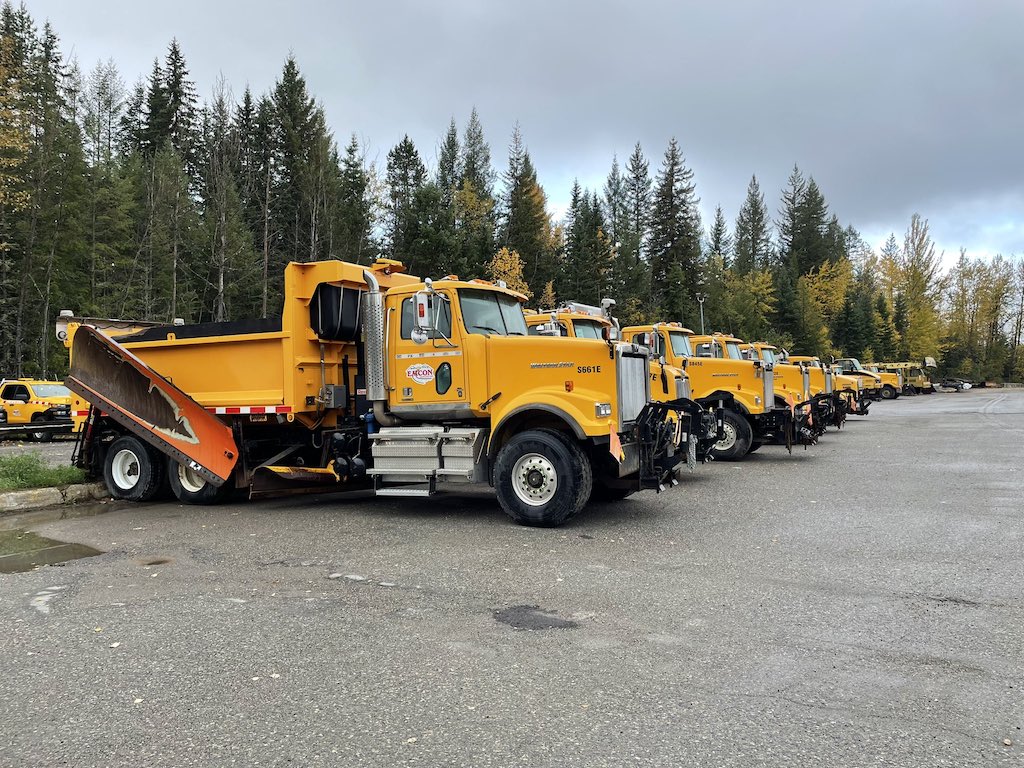 Quesnel YARD
3401 Quesnel-Hixon Road
Quesnel, BC
V2J 5Z5
250-992-8809 main
250-992-3656 fax
Office hours Mon – Fri 8:00am – 4:30pm
24/7 Road reporting line 1-866-353-3136
SA 18 encompasses a wide variety of different communities from both a population, geographic, historic, economic and climactic perspective.
Quesnel
At the center of SA18 is the City of Quesnel. The city is a population of approximately 10,000 with the surrounding area having a population near 13,000. Quesnel is home to the highest concentration of wood product manufacturing facilities in the province. While forestry is the leading industry, agriculture, mining, and tourism are also important contributors to Quesnel's economy. Quesnel is located at the confluence of the Fraser and Quesnel Rivers. Temperatures typically range on average between +20 degrees Celsius in the summer and -10 degrees Celsius in the winter, however temperatures can go as high as +30 degrees Celsius and as low as -30 degrees Celsius on occassion. This variation in temperature can provide many road related challenges throughout the year including: flooding during the spring, forest fires in summer and potential compact, slippery sections in the winter.
McLeese Lake
Near the southern boundary of SA 18 is the small community of McLeese Lake. It is located 77 km south of Quesnel. The lake is a popular vacation spot for locals and travelers alike. Not far from McLeese Lake is the Gibraltar Mine. This mine is the second largest open pit copper mine in Canada and the largest mining employer in the Cariboo region.
Kersley
Located 24 km south of Quesnel along Highway 97 is another small community named Kersley. Kersley is known for its warm micro-climate which is why it is a large agricultural community.
Wells
Located 74 km east of Quesnel along Highway 26 is the small town of Wells. Wells is known for mining and tourism as it is the last stop on Highway 26 before the Historic Provincial Heritage Site of Barkerville. 30 km north of Barkerville is the world famous Bowron Lake Provincial Park. This park is made up of a collection of lakes which are extremely popular for canoeing.
Nazko
Located 100 km west of Quesnel along Highway 59 is the small community of Nazko. Nazko is known for ranching and forestry and has a historic First Nations community.
Hixon
Near the northern boundary of SA 18 along Highway 97 is the small community of Hixon. It is located 60 km north of Quesnel. Hixon has a rich heritage in placer gold mining and activities related to forestry.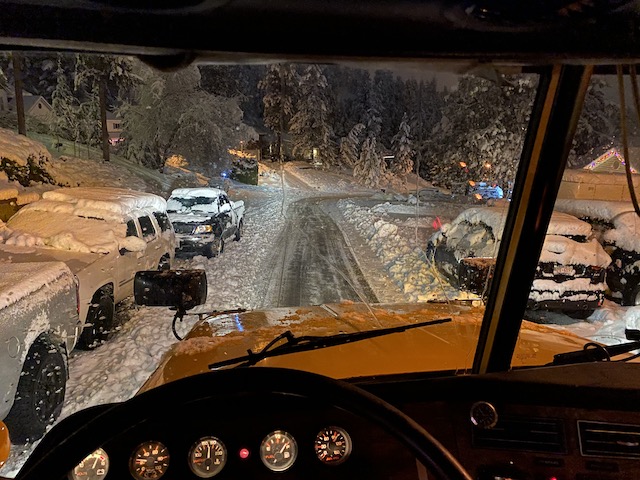 West kelowna YARD
2595 Auburn Road
West Kelowna, BC
V1Z 3H7
250-378-4176 main
250-378-4106 fax
Office hours Mon – Fri 7:30am – 4:00pm
24/7 Road reporting line 1-866-353-3136
Our West Kelowna crews look after 500 km of municipal roads made up of 3 priority classifications.  Challenging weather that comes over the mountains from the high elevations can have its toll on city streets.  With congested streets and in an urban environment our crews take care with snow removal.  Several bus routes and transit routes in the area take priority during major storms and cleanup.
Plow truck Upfitting and Rebuild Shop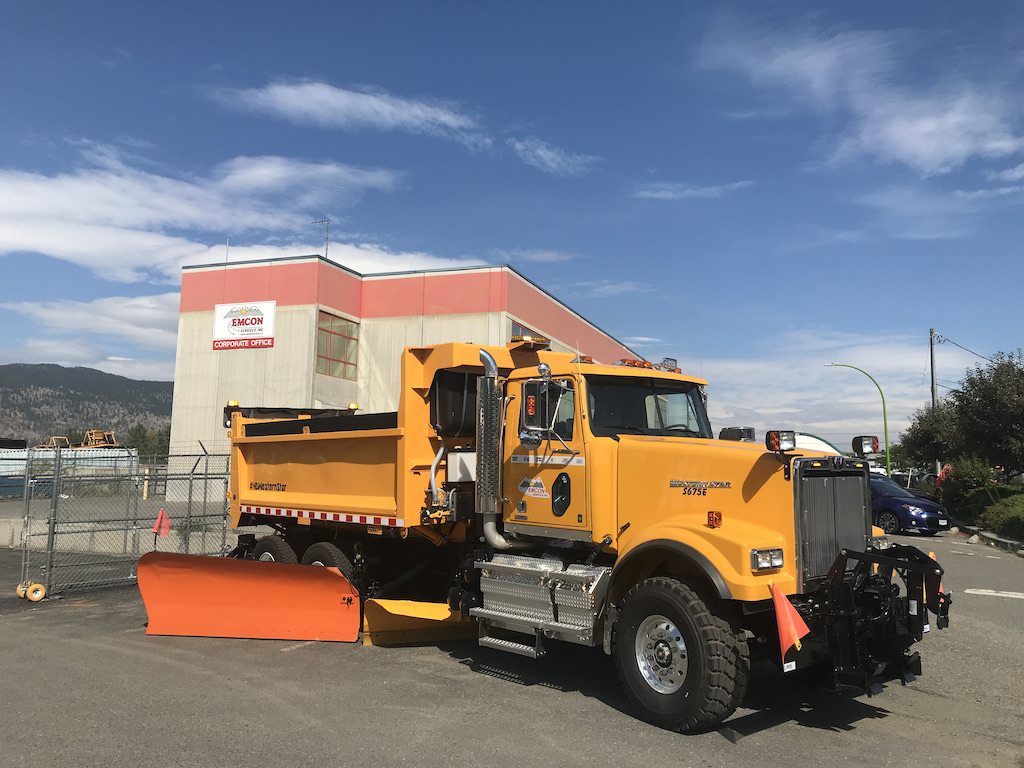 Merritt Shop
1181 McFarlane Way
Merritt, BC
V1K 1B9
250-315-5984 Simon Rizzardo
250-255-1479 Jake Mullin
Office hours Mon – Fri 7:00am – 3:00pm
At our Merritt truck build facility we take cab and chassis HD Western Star trucks and turn them into snow fighting machines.  BC, Alberta, or Ontario Spec can be built.  4700 series and 4900 series or the new 49X can be specified with heavy 20000# front ends, full locker 46000# drives with frames drilled to meet the accessories you want on your truck. We can accommodate tri-drive trucks too! Front plow mounts, underbody scrapers, front wings, rear wings, combo bodies, dump boxes, tow plows, slide in tanks and conspicuity panels.